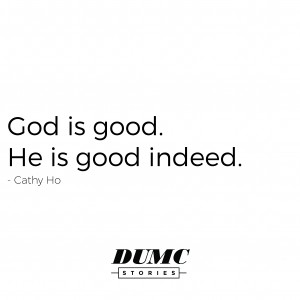 In 2013, my 13-year-old daughter Ashlyn was diagnosed with scoliosis which causes her spine to curve and twist resulting in a compressed upper body. We decided to seek alternative treatment in Singapore. Initial treatment showed improvement of her curvature, but her condition got worse due to her growth spurts and gravity which compressed her spine downwards. In July 2015, her curvature was getting to a critical stage, and we decided to send her for spinal fusion surgery in Mayo Clinic in the US.
I started preparing myself for this difficult challenge by seeking comfort in the word of God daily. His word always spoke to me, and I had a collection of all the verses that encouraged me because I needed to remind myself of what God had spoken to me especially when I went to the US. I was specifically praying that God would help me and my husband Jackson to be able to handle the tremendous stress. As I prayed over the months, God gave me the peace and the assurance that Ashlyn will be in good hands.
The Lord also gave me a picture of a blooming flower, which was the assurance that something beautiful would come out of this challenging chapter of our lives. I claimed this in the name of Jesus every time I did my quiet time. The Lord also gave me wisdom in the whole situation, guiding me in making critical decisions every step of the way, from the time of her first assessment to the time of the surgery itself.
Ashlyn and I made our first journey to Rochester in Minnesota, a very cold place at the border between the US and Canada at the beginning of December 2015 for assessment in Mayo Clinic. The doctor met us and told us the various options available for Ashlyn. Due to her severe curves, she suggested that we opt for the preoperative treatment using the halo-gravity traction followed by posterior spinal fusion surgery. However, the preoperative treatment would require a three-week hospital stay at least.
She also suggested that we contact Ronald McDonald House, a place for families from outside of Rochester to stay in while their children are seeking medical treatment. Families only need to pay a nominal amount. This would give me a place to stay and allow Ashlyn to continue her second and third week of treatment as an outpatient by moving the traction equipment over to the House. Upon our arrival, we could only be placed on a waiting list. I mobilised my prayer partners into praying for a place in Ronald House.
On the first week of January 2016, Ashlyn and I arrived back to Rochester to start preoperative treatment. We were number nine on Ronald House's waiting list, but the very next day I received a call from the House to say that we had a place there- what perfect timing! All praise be to God. God is good.
The preoperative treatment involves putting a metal halo with six screws attached to her skull, which would involve a minor procedure. She would then need to be in the hospital to start putting traction on to lift her spine up. This would be done by her sitting on a special chair with weights to pull her head upwards, thus pulling the spine upwards as well. She started with 10 pounds. The target was to eventually reach half her body weight, which was 45 pounds. After four days of traction, Ashlyn then complained of numbness on her head and pain in her neck. The doctor was concerned and reduced the traction, running an MRI scan just to be sure things were alright before resuming preoperative treatment.
This threw me off guard, because if she can't proceed with treatment, she'd need to undergo an additional six-hour surgery which would involve two incisions on her abdomen to access to the spine, followed by the posterior spinal fusion surgery 24 hours later. This would be very taxing on her! I had to turn to God- who else could I ask for help but the Lord? He is my comforter and my deliverer. The next day, the scan showed that everything was normal and that she could continue with the treatment. Eventually one of the screws had to be removed so as not to cause further numbness. God is good.
The next two and half weeks was tough for Ashlyn. She was in Ronald House sitting on the traction chair with weights of 45 pounds pulling her spine upwards for at least 12 hours a day. She would also have to occasionally walk around the House with a walker, weights attached. The doctor would come over to check on her vitals twice a week, and she'd have to go for X-rays once a week. Again, I requested for my prayer partners to uphold her in prayer. Every time she went in for an X-ray, the results would show an improvement in her curvature. By the time she was about to go in for surgery, her curvature had reduced by 35%. This made it much easier for the surgeons to straighten her spine further during surgery and also reduce the neurological risk. I thank God for giving her the perseverance to go through treatment. God is good.
During the few weeks, while Ashlyn was going through treatment, I was reading the book "Prayer Altars", which encouraged me to saturate myself in His word. It is the Word that makes us rich with the knowledge of God and who He is. I learnt that God shows us who He is through His word, it touches our hearts to praise Him as the Word reveals the goodness, love, power, faithfulness, and other characteristics of the Father. It is not enough to know about Him; we should want to know Him- this is what opens us up to praise and worship. In the process of discovering God, I began to praise Him more; I noticed that I sometimes praised more than I prayed. I was amazed! My journey with God got more exciting in this season.
The day of the surgery finally arrived. I briefed all my prayer partners on how the day was going to look like and how to pray for us. We took Ashlyn to the hospital for admission at 6.30am, and she was prepped and in the operating theatre by 7.45am. It was a very long and slow day for Jackson and me, but we thank God that we were given updates every two hours from the operating theatre via their communication centre, informing us about the progress of the surgery and that everything was going fine. This really helped to ease the stress of waiting during the twelve hours of surgery. Every time we received an update, we thanked the Lord and continued to pray for the rest for the surgery. My prayer partners were also updated every two hours so that they could know how to continue praying for Ashlyn. Finally, the surgery was completed at 10 pm. The surgeon met us and said that the surgery went very well. Her spine was well corrected, and she only lost 1.5 litres of blood, and there was no need for a blood transfusion as they recycled her blood. Praise the Lord. God is good.
She was in the ICU after surgery as she needed to be monitored closely. She was awake when we went in to see her, and it was such a joy seeing her out of surgery. The next challenge, however, was for her to be able to endure the pain during recovery. I mobilised my prayer partners to pray for a good pain management plan from the doctor, and that Ashlyn would be able to handle it. It was tough from the third day onwards as they switched from drip to oral pain medicine, but overall she did quite well- she was up walking on the third day and was eventually discharged on the fifth day. We returned to Malaysia in the middle of March, six weeks after post-surgery recuperation, All praise be to God. God is good.
I thank God for my 14 prayer partners. From the time we were waiting for a place at Ronald McDonald House, to the time she started her preoperative treatment, then recovering from her surgery, they had been praying without ceasing. I am sure they have been encouraged as well in seeing the way God answered our prayers. I also thank God for guiding us to the right doctor who was kind, patient and passionate in what she does. Ashlyn now has a balanced shoulder and is 3 inches taller!
As I reflected on all this, I began to see the fulfilment of the picture God gave me of the blooming flower. The blooming flower represents Ashlyn's beautiful new body. My walk with God is at greater heights as I learned to depend on Him more and praise Him more. Ashlyn's spiritual walk has also taken on a new dimension. I was also reminded of a quote from Pastor Tan Chi's wife. She said, "When I face challenges in life, I can't wait to find out what good thing will come out of it."
Praise be to God. God is good. He is good indeed.
Praise God. Edify others. Share your story here: bit.ly/dumcstories