DUMC STORIES: DESMOND CHOE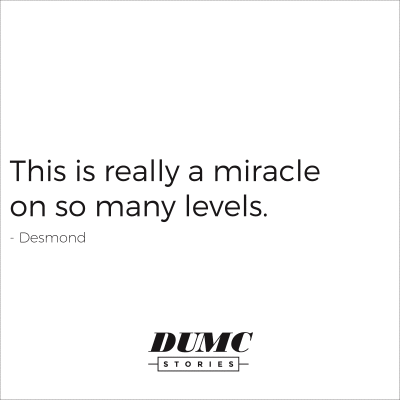 This is a long story but looking back, this is a miracle on so many levels.
My mother had started to pray for me because I needed a bigger place to host my cell group as my cell met regularly in my tiny shoebox apartment, which was about 300 square feet. One day, we came across a property, and my parents decided to buy it for me. At that time with my small salary, I told my parents that I could not afford the down payment and the monthly instalments to come. They said not to worry but just to buy it. The sale and Purchase Agreement (SPA) was signed, but deep down I knew I couldn't afford it. My mother told me just to pray and trust God.
While I prayed, I felt like I couldn't just sit around, so I hatched up a plan and asked my then girlfriend to share the property with me, including the instalment and down payment costs. We were not engaged nor did we have plans for marriage but she agreed. Miracle number one. But then again I knew that there were still not enough funds. So I prayed again and asked God.
Later on, the bank called and informed me that they could only provide an 80% loan and not 90% due to my financial standing. I had no more funds, and I cried out to God, what now? After I told my parents, they said not to worry and put in another 10% to meet the loan requirements. As I look at the repayment plans and the monthly instalment amount, I told God- it is still too much! What now?
His answer came in a phone call from my to-be father-in-law. He found out about the property and our plans. Unexpectedly, he said that he would match my parents' 20% and put in another 20%. Now, we had 40% of the down payment! Miracle number two.
Then, a dilemma struck me- how could I ask my girlfriend to share the liabilities and costs of this house, but have no plans to marry her? I did not even have enough for an engagement ring. I do not have money God, what do I do? His answer came within weeks. Out of the blue, some unknown investments came to fruition, and I have enough funds to buy a beautiful engagement ring, with some money to spare. We got engaged! Miracle number three. I decided to keep the spare money for renovations, but God had other plans for me.
DUMC's Anniversary Giveaway Weekend came about, and I felt challenged to give. I struggled, telling God that I couldn't do it, but He continued to gently challenge me. In obedience, I submitted and gave. It was a relief to obey, but deep down I knew that I still lacked financially. I was crying out and praying, "How now God? I do not have enough money for the monthly instalments, nor the renovation!"
Around this time, I came to know of Pastor Joseph Prince and his message of praying in faith. So I started praying and declaring that I was financially independent and that God was my Jehovah Jireh and Provider. Even with the 40% down payment; even though our salaries could cover the monthly instalments, there were still renovation and refurbishment costs to account for. I kept praying and trusting God, asking God for help.
God did a fourth miracle in the most miraculous way. He extended my SPA transaction period from 3 months, which was the normal span, to nearly eight months, lasting until the end of the year. This property had a peculiarity which required a court order that took a long time. God delayed the whole SPA transaction period until the end of the year- just in time for my salary increment and my bonus payout, which was my biggest thus far! Not only that, but He also ensured that my fiancee received a salary increment as well and also a very big bonus. Now, we had enough funds to pay the monthly instalments, to complete the renovation and furnishing, and even some extra for our wedding!
Now, my cell also has a bigger place to worship and meet regularly. Truly God is amazing! He is our Jehovah Jireh, God our Provider. All glory and praise belong to Him. I hope this testimony will encourage people to believe that truly, great is His faithfulness. Alleluia!
Your Story. His Glory. Share your story here.