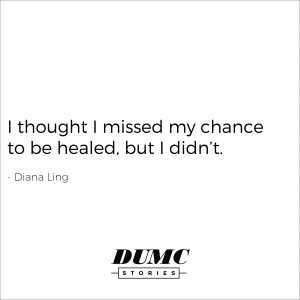 When I was in high school, I sustained a terrible fall, landing my left knee on the stairs. Since then, my left leg has always been prone to injuries and sprains.
Earlier this year, I was at a waterfall and used my left leg to keep myself from slipping off a stone. Since then, the pain in my left ankle has also been on and off. The pain sometimes paralyses me for few minutes before I can walk again, and sometimes it feels like I have no strength in my left ankle at all.
I was at Celebration one day and heard Pastor Chris share that he had prayed for a lady who had an issue on her left leg. I felt like I had missed the chance to be healed because I wasn't in church that week. Still, I stood up and prayed for God to heal me. While I was praying, my left knee started to jerk and tremble all the way down to my toes.
I walked out from church that day feeling so much relief from the pain in my left leg. It's not perfect yet, but I feel so much better. I am certain I have been healed. Praise the Lord!