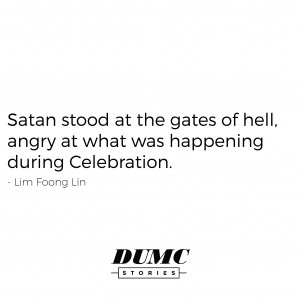 DUMC STORIES: LIM FOONG LIN
My 10-year-old son was softly telling me something while we were rushing towards the car park to catch a dinner appointment right after Saturday celebration. He mentioned the word 'Satan', and it caught my attention. As I bent over to listen, he told me that he saw a picture of Satan standing at the gates of hell, screaming 'No!' as he banged on a table. My son said that Satan was angry and upset as he saw the congregation praying in tongues during the altar call.
I then asked if he was fearful seeing Satan as he usually doesn't like seeing eerie things, but he confidently said no. I was certain of this as he was calm and composed while saying it. Praise God for the vision!
Your Story. His Glory. Share your story here: bit.ly/dumcstories