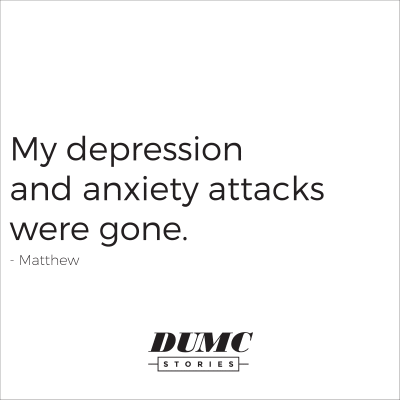 For those who are always on social media, you'd know that it is always filled with people saying how bad their 2016 was. Well, it was a year where hate, corruption and loss took place; people were definitely frustrated and angry. For me, however, it was a year which was in God's hands.
In mid-April 2016, I was invited by my cousin to participate at another church's campus conference. As a young person, I felt right at home at the conference as it was filled with local and international campus students with a pure heart for God. During one of the worship sessions, I told myself, "Okay, I'm switching churches".
Right at that moment, I heard God say these words loud and clear:
"Matthew, I know that you want to come and join this church. But I'm telling you, stay in DUMC, for I am going to use you to do something great."
I was so shocked when I heard that and did not know what or how to even respond to that. In that moment, the pastor got on stage and said, "If God has told you to do something, but you don't know what to do right now, I'll tell you this: Surrender to God." And so I did. It was there and then my life began to change.
At the end of May 2016, I began to binge watch old Disney movies and short films. As I was watching High School Musical I wondered, why don't I join a musical? I used to do that during my Children's Church and school years, so why not relive those moments again? I began to search online for auditions for musicals and found one. I sent my details to the producer, and they called me in for an audition. Long story short, I did not manage to get a part, and I was a little upset.
However, I felt that God was actually gearing me up, because a few days after that audition, the producers for DUMC's Christmas production were opening for auditions. Initially, I was unsure of whether I could join, as my family and I always go to Kedah a few weeks before Christmas every year to celebrate Christmas with our relatives there. But then, I remembered what God told me, so I talked with my family about it and they agreed to go there after the Christmas production!
Since then, everything began to go uphill. I was given the role of one of the main characters, I began to serve actively in church and in my CG, and my studies was slowly but surely improving. Rehearsals for the production began in July and got more frequent as the date drew nearer. This also prompted me to be more responsible in dealing with my studies, rehearsals and other plans. It was tiring, but I thank God for giving me the strength to push through.
During the last few rehearsals, however, I was sitting for my finals. As this exam would ensure my completion in my Foundation studies, I was very stressed out. It was to the point that during the exams, I got so scared and my mind blacked out. To make matters worse, after the finals, I fell into depression and had anxiety attacks which, believe me, is an unpleasant combo. Voices keep telling me that I would fail not only in my exams, but also the production and let down everyone who was a part of it.
My heart and mind was clouded with so much uncertainty and pain. I was so emotionally drained that I finally said to myself, stop! I turned on a song called 'You Make Me Brave', which was a Christian song. It was through this song that I heard God speaking directly to me, saying, "I made you brave". God reminded me that this was His promise to me, adding that I would be passing my finals, although not with flying colours- believe me, I heard that! With that, my depression and anxiety was gone, and I delivered my lines and actions smoothly and strongly during the production.
I praise and thank God for not just giving me the opportunity to be performing onstage, but also for using me to share His gospel to everyone through the talents He has given me. It has always been my passion to serve God and bring glory to His name. I also thank God for showing me His true love and teaching me to surrender everything to Him as He holds my life in His hands. As He promised, I passed all my finals and completed my Foundation studies! Now, as I ask, "Now what, God?" I will wait on His reply, knowing that He already has a plan for me.
Your Story. His Glory. Share your story here.