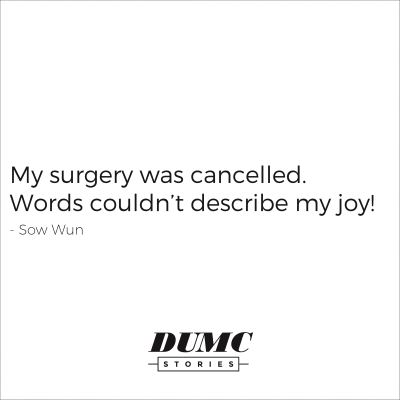 Following an operation due to adhesion of my intestines, I suffered from a blockage in my small intestine. I couldn't pass wind or pass motion for a gruesome seven days and had to be admitted after having severe stomach pains.
I was in the hospital for seven more days and was not allowed to have solid food, so I was mostly on drips. After a second x-ray and CT scan, my condition was still the same. My doctor then decided to schedule me in for surgery to remedy the problem.

My close relatives and friends started praying very hard for me. Even my friend's cell group friends, both local and overseas, were praying! I felt like I couldn't give up hope- not when even my friend's children were praying for this aunty! So I began to pray, & confessed these verses upon myself: Matthews 9:22, Hebrews 13:8, Peter 2:24, Mark 11:24 and Luke 11:9.
By God's grace, four hours before being pushed into the operation theatre, I had loose bowels, and my operation was put on hold! I was monitored for the next 24 hours, and miraculously, my condition kept improving. My doctor decided to cancel the operation, and I was discharged two days later!
Words could not describe my happiness. Praise the Lord for this miracle; His timing is truly perfect! Trust Him fully, for He knows what's best for us. When we persist in our faith, He is faithful to answer our cries and pleas!
Your Story. His Glory. Share your story here.