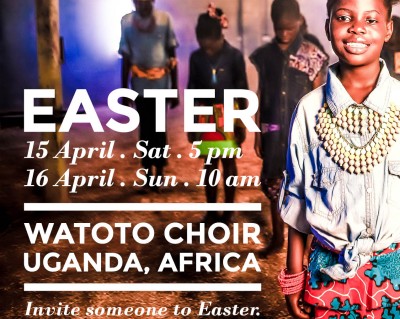 EASTER: WATOTO CHILDREN'S CHOIR
Watoto Children's Choirs have travelled extensively since 1994, sharing a message of hope for Africa's orphans and widows. To date, the choir has toured six continents and performed to enthralled audiences in schools, retirement homes, churches, parliaments, state houses and royal palaces.
Each child in the Watoto Children's Choir has suffered the loss of one or both parents and now lives in a Watoto village. The experience of travelling on a choir helps the children to develop confidence and boldness, as well as broadening their worldview.
Accompanied by a team of adults, the choir presents Watoto's vision and mission by sharing personal stories, music and dance. While on the road, the children act as advocates for the millions of other African children who have experienced the same heartbreaking pain and suffering as them.
Join our Easter celebration and hear the message of hope.
Invite someone to come along too with our invitation found below.