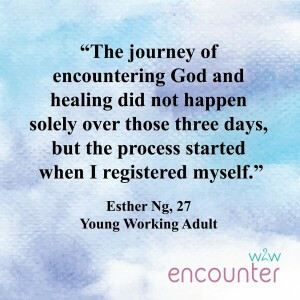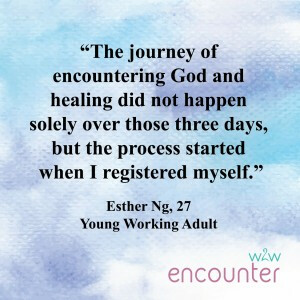 From 27th to 29th September 2015, I joined the W2W encounter weekend. I discovered that God is amazing. He was leading me in a clear and certain way. The journey of encountering God and healing did not happen solely over those three days, but the process started when I registered myself.
Two months before the encounter weekend, I experienced great hurt from the person I trusted and loved most. I started to experience God's comfort and healing during those two months. However, the puzzle was not complete until I went to the encounter weekend. During the encounter weekend, I started to become aware and acknowledged that I was experiencing the betrayal from the person I trusted and loved. When I acknowledged that, the healing process began. It was a painful and heartbreaking experience. I really had no strength to move forward. However, the spirit of God broke through and healed my broken wings. When I learnt to turn to Him completely and to get His comfort and strength to move forward, He calmed my innermost being, healed my hurts, and gave me courage to hope and love again. I realized that God did not take away my pain and hurt. But, instead He allowed this pain and hurt in my life to mould my character, to make me a stronger person, and to draw me closer to Him.
God put the peace of forgiving deep inside my heart during those two months. However, I was not absolutely convinced, because many people around me told me that I should not forgive so easily and give that person a chance to hurt me again. People also responded that the peace might not come from God. Hence, I was quite confused about God's heart and desire for me. Finally, God showed me His heart through the speakers during the encounter weekend. God consistently told me that this peace of forgiving and letting go is real and is from God. I learnt that He is the God of many chances. He not only challenged me to forgive that person, but to honour and be kind to that person.
God also spoke to me through a game we played during the encounter weekend. We had to design a Cinderella costume using material given. Our group was only given newspaper and a few simple materials compared to other groups. However, my group members were able to make the costume so beautifully that we emerged the champion for design. I was the Cinderella. I looked so beautiful in the hand-made costume. God spoke to me through this Cinderella figure. During the hurts, I would begin to shut down all my support system and stopped seeking the help of others. God told me just like in making the costume, it would be impossible for me to make it through life's challenges without getting support from the right group of people.
Furthermore, God spoke to me through an inspiring video. I realized that none of us are perfect. All of us are handicapped in certain ways. Hence, we need to help each other to run the race well. All of us are going to finish the race together. If we want to run the race, we cannot carry along a lot of things that hinder us from finishing the race well. We need to let go and throw off the hurt from the past and always focus on the goal ahead. Instead of judging other people's weaknesses, we should be helping each other to run the race well. It is okay if we do not start well or even fall along the way. The most important thing is to finish the race well.