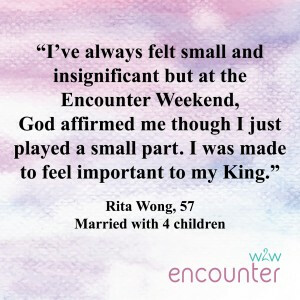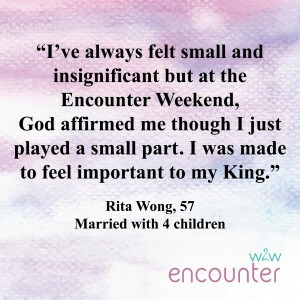 For the longest time ever, I shied away from W2W Encounter Weekend thinking surely there's nothing in store for me in an all-women gathering. However, I became more open when I saw a group of pastors' wives coming together, displaying unity and a unique team spirit. Somehow the closeness and camaraderie demonstrated a sense of closeness in the church leadership, and that attracted me to sign up finally for the November 2015 Encounter Weekend.
The weekend away was a refreshing one for me. In every session, from worship to message, connect group sharing to games, God encountered me. The presence of God was so powerfully tangible, and I found myself crying buckets. Through the games, God impressed upon me that He has given us all different gifts to build the body of Christ strong. It is not who wins but in the end all win when we work together. I've always felt small and insignificant but at the Encounter, God affirmed me though I just played a small part. I was made to feel important to my King. I live not according to people's expectations but to honour God.
I witnessed and experienced some wonderful moments connecting with women of different ages here. The older women shared their life experiences while the younger ones listened intently. In turn, the younger ladies taught, the older ones how to be relevant relating to the younger generation. By talking to them, it has somewhat helped me to relate to my daughters better.
I'm so glad I made the decision to go away for this divine appointment with my Abba Father and fellow sisters-in-Christ. I've been thoroughly blessed.